It's safe to say that by 1989, things were not going well in Yugoslavia. Tito had died in 1980 and, following his death, ethnic division was rife throughout the Socialist Federal Republic. Slobodan Milošević sought to increase Serbian influence over the six republics. Civil unrest broke out in Kosovo and the Serbian resistance to the republics seeking more autonomy led to withdrawal of Slovenia and Croatia from the Congress of the League of Communists of Yugoslavia and the collapse of the Yugoslav Communist party. Bolstered perhaps by the fall of communism across Eastern Europe, nationalism swelled within the republics ,which was resisted by their Serbian populations who feared cultural isolation in the absence of Serbian dominance.
In 1991, Slovenia and Croatia declared independence, followed by Macedonia, and in 1992 Bosnia and Herzegovina's independence was recognized by the West. Fighting was particularly fierce in Bosnia and Croatia and conflict dragged on between Serbian forces and ethnic Albanians in Kosovo as well as in other regions until 2001. In addition to fierce fighting, there were many reports of genocide, ethnic cleansing and other crimes such as sexual assault and rape. Slobodan Milošević was eventually ousted as president of Serbia, convicted of war crimes and eventually the republics received their independence – all except for Kosovo which remains a partially recognized state to this day.
Now that we've dispensed with the history lesson, let's get to the one to greatest artistic developments to emerge from the the break up of Yugoslavia: Turbo-Folk. Though the genre's origins can be traced back the to 70s, it peaked in popularity and found its – ahem – creative and artistic stride in the 90s and early 2000s during the Yugoslav Wars. While similar genres have also become popular in Greece, Bulgaria, Romania and Albania, we're going to focus specifically on Turbo-Folk from the former Yugoslav Republics.
Explained succinctly, the genre features traditional folk elements, usually an accordion, fused with electronic, dance, hip hop, and pop. The song topics can shift slightly depending on the region of origin, but generally the songs contain strong nationalistic/regionalistic themes as well as other favorite pastimes like adultery, sex, gambling, partying, and how one's particular republic, region and people are the best.
As the Yugoslav Wars escalated and the region witnessed something of a cultural and moral decay, what started as thumbing one's nose at the other republics became openly antagonistic, with men in fatigues, waving rifles and singing about how everyone not from their Republic should fucking die. Generally, it's Serbians singing about how much they hate Bosnians and Croatians, and Bosnians and Croatians singing about how they hate Serbians. As the wars dominated the region, music video content, too, shifted from singers lip-singing to bucolic folk backdrops to footage of gun-welding soldiers and tanks decimating the enemy. The juxtaposition of its abhorrent lyrics and upbeat traditional music makes this one of the most frightening genres in the history of recorded music.
Many songs also 'sample' or just outright lift lyrics and music from other popular songs, particularly from the West. In the chaos of the Yugoslav Wars where genocide and ethnic cleansing were common, Western copyright holders must not have been particularly eager to track down the gun-toting musicians who had stolen their music.
And without further adieu, here are our favorite Yugoslav turbo-folk tracks which spawned from the cultural and political milieu of the breakup of Yugoslavia:
Rambo Amadeus – "Balkan Boy"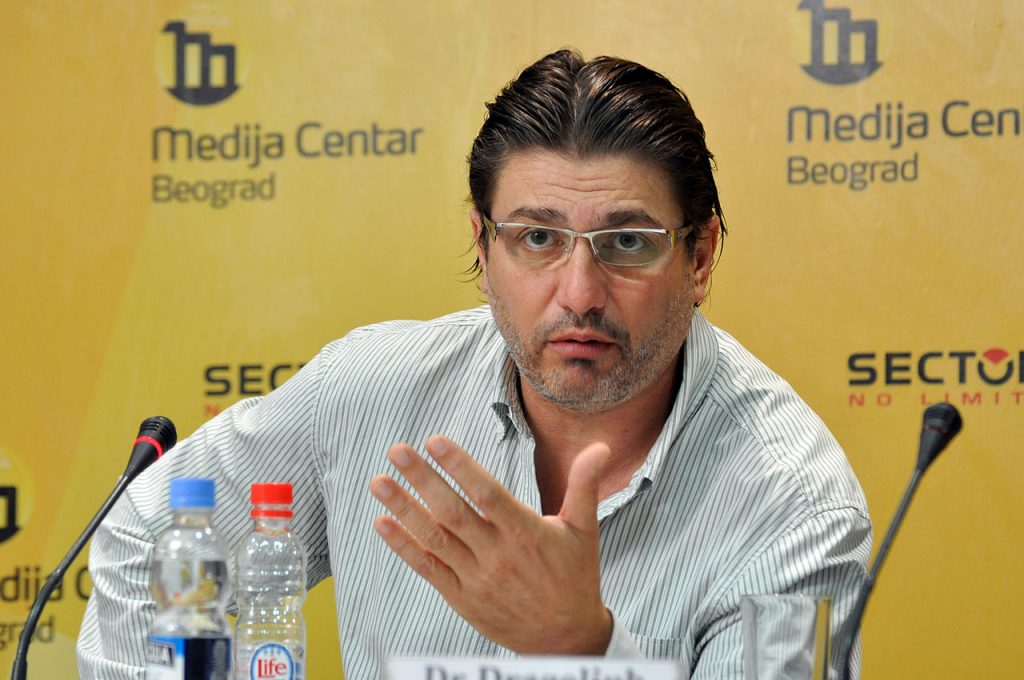 Rambo Amadeus, a stage name for Antonije Pušić, is said to have coined the genre name "Turbo-Folk." Though similar in a musical sense, Amadeus' claims his work is more satire than the ultra-nationalistic material for which the genre would become known. Nevertheless, he coined the genre name in the 80s when he jokingly described his style as "turbo-folk," and the name stuck. Supporting his claim to be a satirist, Amadeus actually found himself in trouble with authorities in 1989 for being too overt in his satire when one of his songs, "Cataclysm of Communism," was retitled to "America and England (Will be a Proletarian Country)" at the behest of censors. Here's Amadeus' send-up of his success:
Marko Perković Thompson – "Bojna Čavoglav"
Hailing from Croatia, Perković emerged as a popular popular performer while he was fighting for Croatian independence. If the surname Thompson does not sound slavic to you, that's because it was a nom de guerre which Perković assumed after being given an American Thompson gun by the Croatian National Guard. In his postwar musical career, Perković has been denounced as a neo-Nazi after performing "Jasenovac i Gradiška Stara," a song which glorifies the WWII-era Croatian fascist movement Ustaše, whose methods of execution were so brutal that even the German Nazis told them to chill. Perković denied what his performing the song implied about his beliefs, stating that he is a "a musician, not a politician." Though that was probably a fib, let's look back at simpler times when Perković was a Thompson-touting Croatian patriot with his breakout 1992 hit "Bojna Čavoglav:"
Baja Mali Knindža – "My Dad Is A War Criminal"
Baja Mali Knindža is a stage name (it translates to Baja Little Kninja, referring to the elite Serbian paramilitary unit The Kninjas aka the Red Berets) for Serbian musician Mirko Pajčin. An ethnic Serbian from Bosnia, Baja's career took off just as the Yugoslav wars kicked into high gear and a career in patriotic turbo-folk music was the most commercially advantageous. His songs are known for their scathing and vitriolic attacks on Croatians and Bosnians. In this slamming track, "My Dad Is A War Criminal," Baja brags that "no one has the balls to arrest" his father for conquering Bosnia:
"Shut Up, Shut up, Mujo (Bosnian Muslim), I Will Kill You"
Honestly, the latter track feels fairly light in tone when compared to some of Baja's other songs, such as "Shut up, Shut up, Mujo (Bosnian Muslim), I Will Kill You:"
"I Don't Like You Alija."
And last, but certainly not least, who can forget about the time Baja paid a bunch of Serbian prostitutes to sit at his side while he beefed with Alija Izetbegović, the first president of the independent Republic of Bosnia, with this unambiguously titled 1993 hit, "I Don't Like You Alija."
Roki Rodoljb Vulovic – "Crni Bombarder" and "Oj Alija Alio (Hey Alija)"
Born Rodoljb Vulovic, and an ethnic Serbian from in Bosnia, Roki began his musical career in the 70s. While fighting in the Bosnian War, he was encouraged by his commander to produce music to entertain his fellow soldiers. Here's the title track from his 1995 album, "Crni Bombarder," which is a strongly worded warning to then-US President Bill Clinton not to "pick a fight with defiant Serbs:"
And while we are talking about Roki, here's another corker, "Oj Alija Alio (Hey Alija)." Performed by Koridor, with words and music by Roki, this derogatory ditty also takes the piss out of Alija Izetbegović. The track calls Alija a "muslim degenerate" and, with the lyric "there are no more turkish pies made from Posavina's golden wheat," flaunts the ethnic cleansing which occurred in Posavina region of northern Bosnia. Yikes!
Ceca – "What Is In Your Veins?" and "It's Not Monotonous"
No Yugoslav turbo-folk list could be complete without a track from Ceca, cousin to Baja Mali Knindža, and one of the most successful Serbian performers of recent times with 4 million record sales and record attendance at her concerts. While we have primarily featured some of the most grotesque examples of the xenophobic and militaristic themes that took hold of turbo-folk during the Yugoslav Wars, Ceca's 1993 hit "What Is In Your Veins?" is a love song.
Despite its Serbian nationalist slogan sounding title, it's actually about a jealous girlfriend who knows her man's female consorts are not just his friends. While it's not exactly "As Time Goes By," it's a catchy, accordion/synth driven track about young romance, as portrayed in the music video. It's worth noting that whatever political content Ceca's songs might lack, she made up for by marrying career criminal turned Serbian paramilitary commander Željko "Arkan" Ražnatović. Željko was such a bad boy that he was wanted by Interpol prior to committing war crimes during the Yugoslav Wars. He was assassinated in 2000 before his UN trial could take place. If that was not enough, Ceca was arrested in 2003 following a roundup of nationalists in the wake of the assassination of Serbian reformist prime minister Zoran Đinđić. Charged with possession of illegal firearms and profiting off the transfers of players from the FK Obilić football club she inherited from her husband, Ceca escaped prison by blaming her deceased husband for her wrongdoings.
And, though Ceca never waved a gun or insulted the Bosnian president in one of her songs, here's another her cuddling a tiger cub in her 1995 hit "It's Not Monotonous." The track is from the same year Ceca married Željko "Arkan" Ražnatović. Why is that significant? Well, it is because Ražnatović was a the commander of the Serb Volunteer Guard which was also known as "Arkan's Tigers."
We've barely scratched the surface here and it's pretty wild stuff, right? Well, to give things a happy ending, it is worth noting that with the end of the Yugoslav Wars and the collapse of the Milosevic government in the early 2000s, the themes of Yugoslav turbo-folk have shifted to embrace more pop-oriented and current themes while retaining its throughout uniquely Balkan aesthetic… Now, pass the rakija!