If you've had the pleasure of visiting Turkmenistan, or if you've looked it up to excite yourself about a future visit, you'll have quickly realised that Turkmenistan, amongst many bizarre and unique attributes, likes to snag a world record. Mostly they like to be the biggest of something, usually without much competition, but here's a fun list of some of our favourite Turkmenistan World Records (and by no means all of them).
They've even published an amazing and eye-opening book titled "Ashgabat – In the Record Book of Guinness", which is where all the quotes we've taken are from (it was not easy to choose which ones to use – there are a lot of great ones!). There are too many of these wonderful records to fit into one blog though, so look out for instalment number 2.
Largest Indoor Ferris Wheel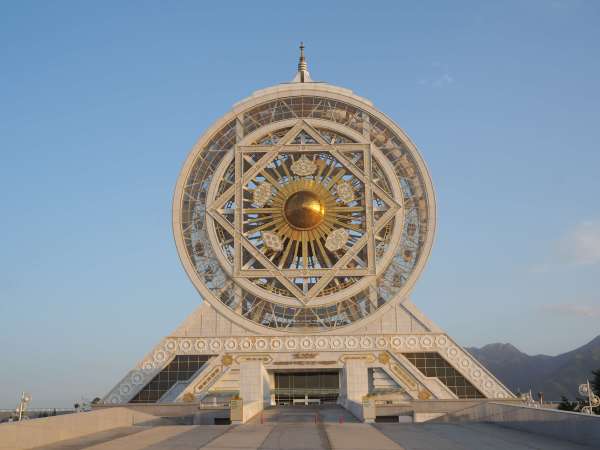 This is probably the most famous of Ashgabat's bizarre records, and it is definitely one of our favourite places to visit. The wheel itself measures 47.6 metres and was opened on the 18th of May 2012 as part of the Alem Centre. "This bright building having the green gardens around it, gives joy to souls and nice to watch as it is the place where peoples' dreams are realised in the epoch of Power and Happiness."
Inside the centre there's also a games arcade, bowling alley, 3D cinema, food court, café, souvenir shop, ice-cream stand and apart from the wheel itself, our favourite is the space museum which holds unequivocal proof that Turkmenistan was instrumental to the moon landing. "It is important to note that the esteemed President Gurbanguly Berdimuhamedov as the great Architect of the time has concerned his constructive starts into the construction art." The ferris wheel is a staple on all our tours, and you can take a ride on the "Wheel of Enlightenment" for the equivalent of about US$0.15.
Largest Architectural Star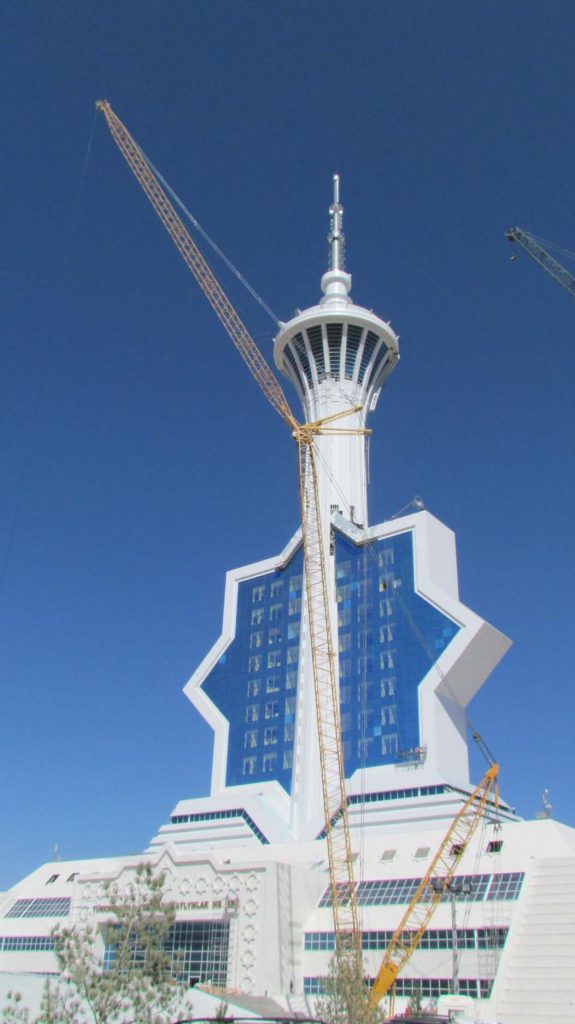 Built to celebrate 20 years of independence and to showcase the country's famous "Golden Age" (referring to the golden years of independence), this record was awarded in 2011. "On the occasion of the ceremonial 20th anniversary of our sacred Independence in October 17, 2011 the esteemed President Gurbanguly Berdimuhamedov's wonderful present to the Turkmen people, silver crown of the mountain ridge appeared being visible from all corners of the sample, marble city."
Set in the mountains on the outskirts of Ashgabat, the 3,240m2 star structure is the casing around the television tower and thus is unfortunately not possible to actually visit, although you can get up pretty close for some (sneaky) photos and some great views of the city. "While watching at this high building we understand one more time that the nation which had built wonderful and up to sky raising towers in their glorious history, are realising their dreams under the dear Leader's endless efforts in the new creative epoch of the country by finding their real forms."
Largest Building in the Shape of a Horse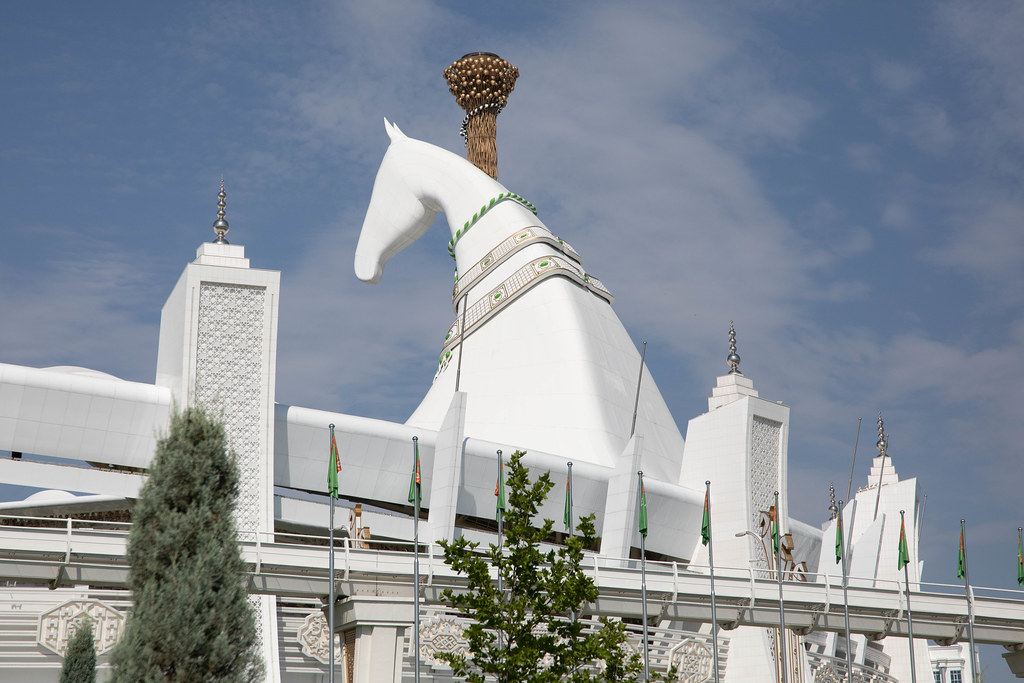 There are several different ways this record is worded: "largest horse head structure", "largest architectural symbol of a horse", and of course the title we've used. And the reason for this is that they actually don't officially have this title, and as far as we're aware Guinness don't even know this building exists. According to their own media they hold the record, but unlike most of Turkmenistan's records, there actually is competition for this one – the Kelpies' heads in Scotland, which are 30m tall. The stadium, built for the Asian Indoor and Martial Arts Games in 2017 in Ashgabat, is 40m tall, but the horse's head itself doesn't start at the base of the structure. So if they do at some point get the record-recognising authorities involved, it will be interesting to see what the outcome is.
Highest Density of White Marble-Clad Buildings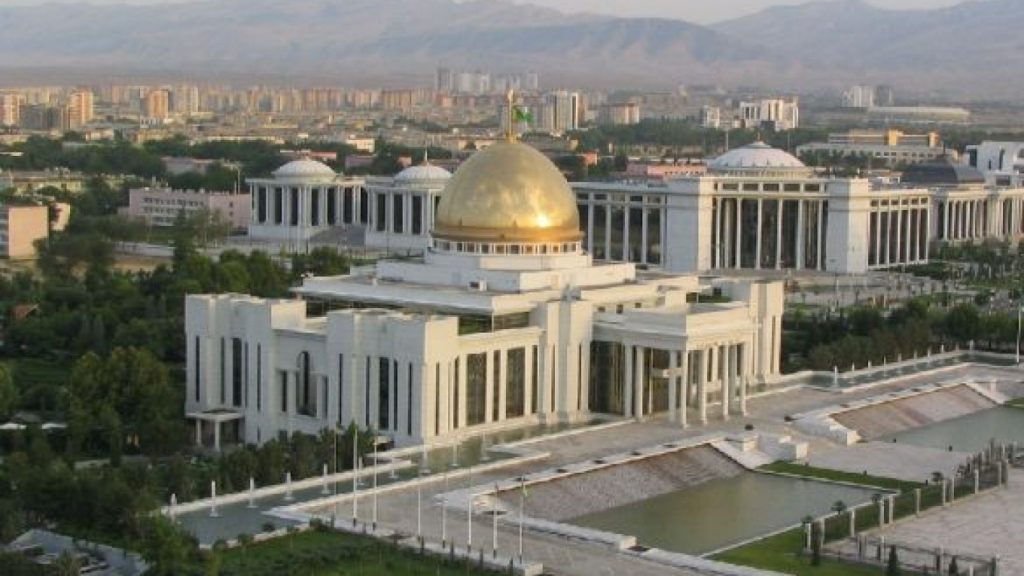 This record was claimed on the 25th of March 2013 and since then the construction of marble buildings has certainly not slowed down! At that time, there were 543 buildings, over an area of 22 km2, clad with a whopping 4,513,584 m2 of white marble! I guess since no one is contesting them for the title there's no need to re-measure, but it can't be far off double that now, seven years later. And this is only the real marble – there are plenty of buildings clad in fake marble too. But not all of these buildings are new, as you may expect, though of course plenty are. In fact, lots of the "marble" buildings are actually old Soviet concrete buildings, that have just been covered in marble (or fake marble), and the insides are still in their original form. It's a bizarre experience to enter some shiny, white, modern-looking building, and then enter into a grey, concrete, Soviet-looking corridor.
Tallest Unsupported Flagpole
As you might already be aware if you've read our blog on the world's tallest flagpoles, or if you just happen to be one of those people that knows about such things, Turkmenistan unfortunately doesn't actually still hold this title. They took the sought-after title from Jordan in 2008, but now sit in fifth place, with Saudi Arabia taking out the top spot. However, this certainly hasn't dwindled Turkmenistan's pride in their flagpole, and that fact doesn't stop it from still being a proud entry in the book "Ashgabat – In the Record Book of Guinness".
"The State Flag! It borrowed green colour of the eternal life. It hoists above the peaceful sky of independent and eternally Neutral Turkmenistan. The green banner shines its light to our bright ways of lives! Its wonderfulness is its sacredness which… took its source from the general human benefits in order to realize the nation's spiritual desire in the peace loving centre of the white city!"