A 58-year-old Chinese father and his 18-year-old teenage son in China's southern Guizhou province have seven silicone sex dolls and are big fans of the "beautiful female figures".
The father has encouraged his son to use the the dolls "to satisfy his biological needs" and treat them like family.
Read why you should never bad mouth a dominatrix here.
The father, Mr Chen, who used to work as a biochemical inspector, said that he does not have sex with the dolls, but grooms and dresses them instead. He also takes them on vacation and makes music videos.
The father's fascination with sex dolls started after divorcing his wife in 2004, when his son, Yang Yang was only 5 years old. In 2010, Chen traveled with his girlfriend at the time to Beijing, where the couple visited a Japanese silicone doll shop.
"We were stunned by how beautiful the dolls were. Unfortunately, each of them cost more than 70,000 Chinese RMB ($10,170USD) and we could not afford one at the time," the father said.
He added that his girlfriend at the time, who was in her early 20s, was interested in the figures and wanted to dress them up. Unfortunately they had split in 2014, but Chen went on with his hobby, buying his first doll, named Little Snow, to cope with loneliness when his son went to school.
"Sometimes when I drive, I'd put her on the passenger's seat. I would feel like I have got a companion," he said in an interview, adding that his son would snuggle with the dolls in the back seat.
Today, Chen has seven silicone partners, spending more than 100,000 Chinese Yuan ($14,530USD) on a hundred different costumes for them.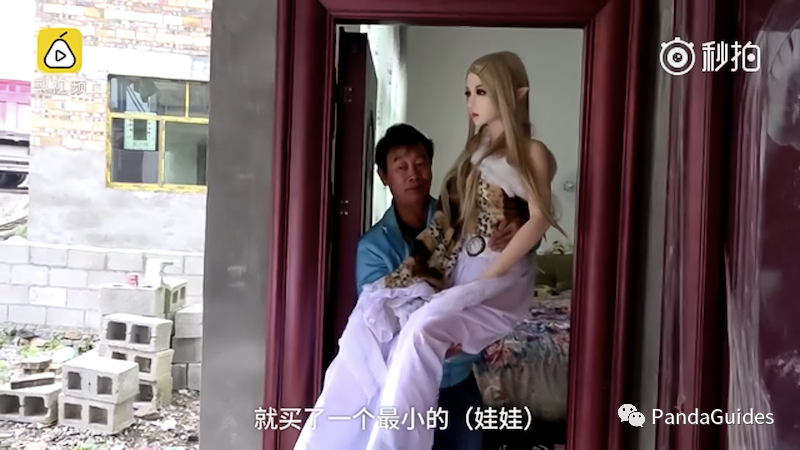 Chen feels he doesn't need to justify himself and other doll fans to people in China who call them "perverts."
"These dolls are beautiful. They are the combinations of the best features taken from various women. I'm simply appreciating their beauty," he said.
"Sex doll collectors and users are very normal," Chen said, defending his hobby. "As a matter of fact, we are more normal than those people who call us 'weird' but who themselves have unfaithful sexual relationships."