Introduction
While Young Pioneer Tours is known for our annual Pyongyang Language Study Tour that takes place annually every July, our other shorter and lesser-known Korean language study program was our "North Korean Rural Study Tour."
Back in July 2018, we ran our very first-ever North Korean "Rural Study Tour" to the very remote North Hamgyong Province and Rason special economic zone located way up in the Northeast of the DPRK to study not only the Korean language but the specific dialect of the province known as Hamgyong Dialect (함경 방언).
While we have not had the chance to run this incredibly unique program since it provided us at the time with what was arguably the most "off the beaten path" Korean language study program ever offered.
Starting in Beijing and ending in the North Korean special economic zone of Rason, we would be studying the Korean language at the Chongjin Foreign Language School, with a local teacher in the only homestay in the DPRK and at a Rason language school.
We want to share our experiences of being the first travel company offering such a tour to the country's least-visited area.
Background
Expanding tourism in North Hamgyong Province has always been something we have been passionate about since first opening the Tumen-Namyang border in 2012 to European tourists, so when we found out, it would be possible to begin arranging study programs to this very rarely visited area of North Korea we hastily jumped onto this exciting new opportunity and got a group of pioneers ready to set out to be the first to study in this very rarely-visited region
The Journey
For our inaugural version of our rural study tour, there were just three of us brave pioneers setting off from Beijing on train K215 to Tumen, Jilin Province, one of the farthest North border crossings on the Sino-Korean border.
Pictured Above: The journey from Beijing and Tumen street BBQ
This particular train journey is approximately 28 hours long and takes you through some of Northeastern China's most stunning scenery crossing rivers, mountains, villages and cities.
A large part of the train journey goes through the Yanbian Korean Autonomous Prefecture of China so the buildings that are passed through in the major cities feature first Korean text and secondly Chinese.
Most of the train journey, like most in China, was spent mixing with the locals, playing card games to pass the time and eating and drinking in the dining carriage.
After checking into the hotel in Tumen, we decided to tuck into what is by the best cuisine in this remote Northeastern Chinese City of Tumen, which is street BBQ overlooking North Korea.
When dinner came to an end, our group of Pioneers bought some last-minute supplies from the markets to take into North Korea the following day and called it an early night.
Crossing the Border into North Korea
Up bright and early and ready to set forth into North Korea, we jumped in one of Tumen's many cabs that dart along the wide roads and headed straight for the border, which is only about a 5-minute drive from the hotel.
Due to the fact that not many people cross this border at all except for North Korean and Chinese businesspeople, Chinese Immigration was rather curious of what we were doing there, but after a quick explanation and a flash of our DPRK visas, we had our Chinese exit stamps and made our way into the DPRK.
One of the unique aspects of crossing this little-used border into North Korea is that instead of taking a car or train across, you get to walk into North Korea on the 515 meters long, 6 meters high and 6 meters wide Tumen border bridge, which was built in 1941 by the Japanese.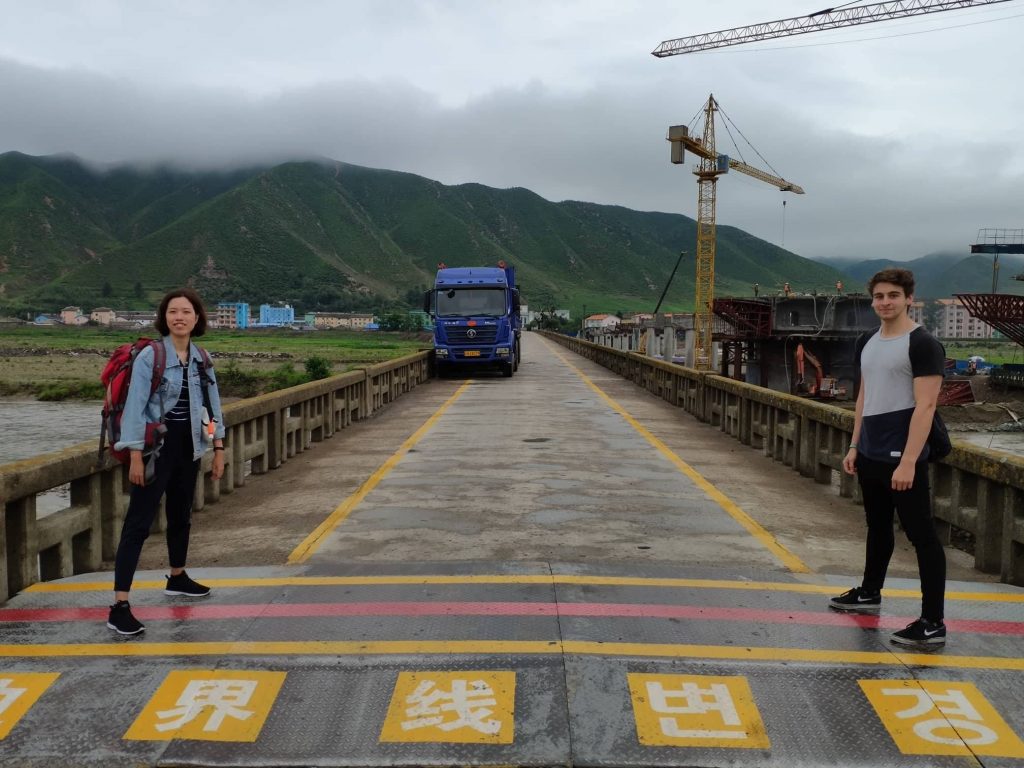 Pictured Above: Straddling the line between North Korea and China.
After a leisurely stroll across the bridge with many photos being taken and checking out the new bridge which is being constructed on the right-hand side to replace the one we were walking on eventually, we finally reached the North Korean side, where we were met by our ever-friendly local guides from the Chilbosan International Travel Company.
North Korean customs in North Hamgyong province is a bit more intensive than at Pyongyang Airport or Sinuiju station, so after a baggage check and filling in a variety of documents, we had our passports stamped with a North Korean entry stamp (one of the only borders where this happens) and were then on our way into Namyang city to begin our adventure.
The first day of the study tour started off with visits to local revolutionary sights, lunch and Korean performance in Namyang City. After Lunch, it would be time to depart for Hoeryong City, where we would spend our first night in North Korea to break up the journey to Chongjin City.
Pictured Above: Lunch in Namyang complete with a Korean performance!
Before arriving in Hoeryong City however, a visit was paid to one of the most iconic monuments in North Kora the Wangjaesan Grand Monument located in Ongson Country. The Wangjaesan the 2nd largest monument of Kim Il-sung and is built on the location of the Wangjaesan Conference in 1933.
The Chongjin Foreign Language School
After a three hour bumpy journey from Hoeryong City, we would arrive in Chongjin City North Koreas third-biggest, also dubbed the city of Iron due to it's manufacturing prowess and factories that tower over the city skyline.
After a quick check-in at the local hotel where we would spend the next three nights in, we quickly made our way to the Chongjin School of Foreign Languages to meet our teacher and become the first tourists in the area to begin intensive Korean language class at the school and intensive it would be!
Pictured Above: Scenes from the classroom in Chongjin!
Since we only had limited time to study Korean in Chongjin, the classes would hit the ground running with a speedy introduction to the Korean Alphabet and numbers before quickly moving onto basic phrases and naming parts of the body.
We each received introductory Korean language workbooks and a textbook that corresponded with the teacher's lessons for any given day.
Chongjin's teaching speed was relentless with pop quizzes on the previous lesson handed out every 15-30 mins and endless Korean speaking opportunities as we were the only three students in class truly an experience and one that kept everyone on their toes.
Homework was assigned for the three nights in Chongjin and was completed to varying degrees by each group member.
The Homestay Village
After three days of intensive learning in Chongjin, we now had the Korean alphabet under our belts and a few basic phrases, so it was time to move onto the Homestay Village where we would receive further lessons from another instructor as well as have the chance to practice with local North Koreans.
Pictured Above: Scenes from the Chilbosan Homestay Village
The Homestay Village is a 3-4 hour drive from Chongjin city, which goes through beautiful mountain ranges and follows stunning coastal areas, which more then makes up for the less than perfect conditions of the roads.
Korean language classes in the homestay took place in the local village school from a local teacher. The teaching speed was relentless just as it had been in Chongjin, but getting even deeper into rural North Korea allowed us to hear and practise even more regional dialects.
Pictured Above: Fun at Sea Chilbo after a long day of learning!
After our lessons at the local school, the afternoon continued on as most do in the homestay relaxing on the beach, playing sports with the locals and a bonfire party at night, all providing us opportunities to continue practicing our Korean language with the villagers.
Pictured Above: Our exploring both the Inner and Outer sections of Mt. Chilbo
In addition to the homestay village, our group also spent a day away from the classroom, taking in the sights and sounds of the stunning Chilbosan Mountain Range for an entire day.
The Homestay is always one of our favorite places to stay in North Korea but with the intamacy that comes along with a small group and some basic Korean language under our belt we were able to make a few new discoveries.
For fans of Koreas sweet meat soup, we took it one step further on this tour and discovered that for RMB 300 the lovely folks at the homestay would not just prepare the classic dog meat soup, but would butcher an entire dog for a complete dog meat feast not wasting any parts with even the heart included.
Pictured Above: Images from our evening dinner consisting mostly of dog meat and card games late into the evening.
Rason City
With our time running short in North Hamgyong Province, it was now time to depart to a totally new area in North Korea, and that was the Rason Special Economic Zone.
Entering Rason is a bit like entering a new country as the zone has its own internal border control that needs to be passed, and instead of using a North Korean tourist visa instead, we would be using Rason Travel Permits for our two nights in the city.
Saying goodbye to our local guides from the Chilbosan Travel Company we were met with two new local guides from RITA (Rason International Travel Company) who would accompany us for the rest of our time in North Korea.
Pictured Above: Enjoying a picnic lunch with our new guides shortly after crossing the border into Rason.
Much like in Chongjin, we attended classes for two days at the Rason Languages School and continued to build upon our Korean Language skills this time beginning to string together simple sentences.
The absolute highlight of visiting Rason however was the local market. The market in Rason is the only market foreigners are able to visit in North Korea and equipped with our new knowledge of Korean Numbers and basic phrases, we were able to barter with the local vendors.
In between our time studying at the Rason Language School, we also toured the cities attractions such as Golden Triangle Bank and Pipha Island.
Back to China
All good things must come to an end, and after a week of intensive Korean language study in the countries Northeast, it was time to cross the border back into China and make our way back home
We ended our tour with one final Korean dinner at one of the many North Korean state-owned restaurants in the borderlands region before we all said our difficult goodbyes and made our separate ways onto our next destinations
Studying in North Hamgyong in the future
In the future, we hope to arrange longer studying programs in North Hamgyong Province as the country continues to develop its tourism industry.
This region in North Korea is as raw and authentic as it gets and as amazing as a study program in Pyongyang is there is still something great about getting off the beaten path to learn Korean in one of the least visited places in the world.