You have a business idea. You think you've struck gold, and there's an eagerness to get started right away. However, jumping into the business world head-first without the right approach will see you get chewed up and spat out in record time. 
Simply put, running a business is a serious, ongoing challenge where you have to sell the right products and services, attract customers, fight off the competition, and so much more to stay afloat. With the number of 
elements you have to juggle, the last thing you want to do is make the overall task even harder by falling for common mistakes that impact a lot of new startups.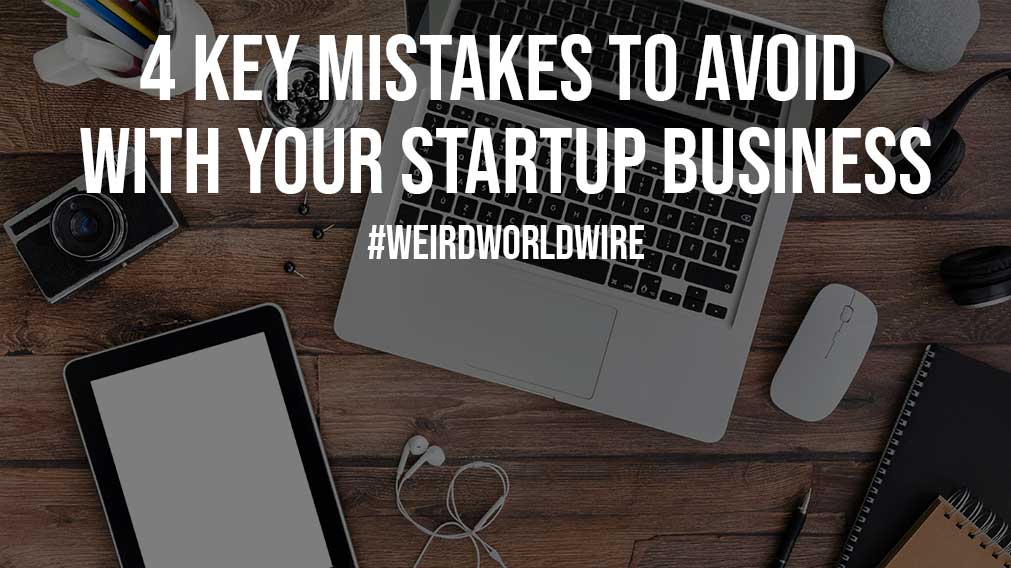 Take a step back, reassess the situation, and try and plot a starting route where you only make the right moves. To assist with achieving that aim, here are four key mistakes to avoid with your planned startup business. 
1. Not creating a business plan 
Does your startup require minimal investment? Perhaps you already have the finances in place to get up and running? In this scenario, you might feel it's redundant to create a business plan.
After all, you don't need financial assistance from the bank, so there isn't a reliance on convincing others about the viability of your business idea. 
However, a business plan is more than simply a gateway to receiving a cash injection for your planned startup. A well-constructed plan serves as a form of guidance for your company.
It sets milestones for you to target. It incorporates research that helps with better defining the market for your business. 
The research part is especially pertinent. Before setting up shop, you have to ensure there's an audience for your company. Research helps you to identify the demand for the products and services you want to offer.
If the research doesn't quite go the way you expected, you can then tweak your offerings before launch and ensure there's a customer base out there ready to use your business. 
Also Read: Ecommerce Business Model During Holidays
2. Failing to factor in shipping 
Unless you're running a service-orientated business or one that exclusively sells digital products, shipping will play an integral role within your startup. When it comes to simply meeting customer expectations, they expect their purchased items to arrive in a speedy fashion.
Any delays can sour their experience, which makes them less inclined to use your business in the future – not good when you factor in the necessity of retaining customers. 
Aside from speed, your products also have to arrive in pristine condition. If the product packaging is all crumpled or worse, the product itself is damaged, get ready for unhappy customers that want to return their items.
So you need a quality shipping service on your side. Yet then another problem crops up: cost. A pricey shipping company can seriously cut your profit margins. As a result, there's a requirement to find that dream combination of quality service at an affordable price. 
That combination can be found through Shiply; this specialist shipping platform allows you to post your job and receive quotes within a matter of minutes.
With prices cheaper that can be cheaper than 75% of the standard rates, it's possible to save a large chunk of change when it comes to shipping – particularly if your business is dealing with bulky and/or fragile items. 
3. Going with the wrong product prices 
Even if you have reduced the shipping bill on your products, this doesn't necessarily mean you are setting them at the right price. It can be a tricky balancing act when pricing up your items.
You want to be competitive in the market as the cheapest supplier around, yes, but your costs also have to come into the equation. If you sell a product at too low a price, you won't make a worthwhile return – and your business won't be viable. 
Take the time to closely analyze what price works best for both you and your customers. If you're not receiving a big enough return, see what you can do to reduce the costs of your product purchasing. Negotiating with your supplier can yield positive results in that regard. 
Also Read: Have two countries with McDonalds ever gone to war?
4. Failing to react 
Even if you put together the most meticulous plan and seemingly take all the correct steps, mistakes will be made.
No startup is impervious to this scenario happening to them. Yet when you do make an error, it's essential you avoid simply sweeping this under the rug and pretending it never happened. 
Instead, you should be positively reacting to this misstep and learning from it. By achieving an understanding of what went wrong, you can ultimately improve your business. You'll know not to make the same mistake again, and you will also realize how it can be averted in the future.