How's it hanging kinksters,
So, check this out: I went on the Uber Kinky website to search for a new dildo but I got sidetracked when I came across some weird sex toys 🤔💭🐍 My gosh, I thought to myself, that's weird and interesting. Out of curiosity, I continued to search for more weird sex toys, and then I discovered … 😱 What in Jizz-Face is that❓
Alrighty, I guess that is why I am writing this blog today, guys! Are you interested in the results of my search and discovery of weird sex toys? Okee-dokee! Let's get down to weirdness…
1. Pipedream Extreme Fuck My Cock Masturbator
Geez, I mean, fuck this is interesting! So, let me get this straight. Dildos are sex toys that you can put into the mouth, butthole, or vadge. However, this particular dildo allows you to smack his patootie, full throatle his cock, tap that ass! And bust a nut deep inside. No wonder it's called the pipedream.
The sex-toy creators of this bad boy have most definitely put their hearts and souls into creating this extraordinary sex toy for your mouths 👄 peckers bungholes 🍑 and coozes.
Let's give our sex-toy creators/entrepreneurs a big round of applause. 👏👏👏👏
2. Icon Brands The 2 Fisted Grip Cock-In-Hands Dildo 12 Inches
https://www.uberkinky.com/2-fisted-grip-cock-in-hands-dildo-12-inches-85682.html
The image of this weird and unique looking dildo is gripping. Would you agree with that? Considering the size of this thing, I'm going to keep this one short and sweet. You don't fancy giving 'The 2 Fisted Grip Cock-In-Hands Dildo' a try, do you? Ah, fuck it! I think you all are in good hands.
3. Sinnovator Dagon Depth Training Tentacle Platinum Silicone Dildo 12 Inches to 22.5 Inches
https://www.uberkinky.com/sinnovator-dagon-depth-training-dildo-85845.html
The sexual penetrative tentacles on this monstrous dildo, reminds me of Andrzej Zulawski 1981 movie Possession.
Did you know that tentacle erotica is a type of pornography⁉️
Are you a big fan of monstrous dildos? If you want to go more in-depth. Why not give the 'Sinnovator Dagon Depth Training Tentacle Platinum Silicone Dildo' a go?
Oh by the way, did you know that 'Phallophilia' is a sexual obsession with gargantuan shlongs 🍆 Furthermore, a 'Slime fetish' is a sexual kink for slimy things. As for example, Tentacles
On a related note, if you are intrigued to read about the "Top 12 weird sexual fetishes" then check this out, kinksters 👇
4. Sinnovator Basilisk Platinum Silicone Anal Colon Snake 20 Inches and 43 Inches
https://www.uberkinky.com/sinnovator-basilisk-anal-snake-43-inches-85848.html
It's now time to go deeper, kinksters! 🐍 How "deep" are you willing to go? Talk about following through on your BIG goals, aye?
I think it's safe to say that this amazing sex toy is a whole different animal.
5. Sinnovator Saphira Dragon Egg Platinum Silicone Butt Plug 3.5 Inches
https://www.uberkinky.com/sinnovator-saphira-dragon-egg-butt-plug-85839.html
I have to say that this butt plug, really is a fine piece of art and It got me thinking about "Game of Thrones".
Ooh, a light-bulb moment, 🤔💭💡 dragon eggs 🐉, Queen Daenerys I Targaryen 😚 Game of Thrones Roleplay / Anal play 🍆🍑
Thundering typhoons! I need to book a session with Mistress Adreena 📱👠
Oh by the way, did you know that 'Dracophilia' is a sexual fetish for dragons 🐉🐲
6. Fetish Fantasy Deluxe Ball Gag and Dong 4.5 inches
https://www.uberkinky.com/fetish-fantasy-deluxe-ball-gag-and-dong-80746.html
So, this is a weird looking two-in-one, couples sex toy for your wildest kinkiest fantasies. Holy kamoley, you could have a lot of fun with this one.
At a first glance, I thought to myself … 🤔💭 gadzooks! Should that be the other way round? Then I read the description and was like, "Oh, thaaaaaas gagtastic". Maybe the sex toy creator of this bad boy had a cock and ball fetishization.
7. LoveBotz The Saddle Deluxe Sex Machine is One of The Weird Sex Toys
https://www.uberkinky.com/catalog/product/view/id/16448/s/lovebotz-the-saddle-deluxe-sex-machine-84825/
Oh, ladies! Have you been having dreams of fourgasms.🤔💭🗣️ I'm not going to lie to you, this looks weird.
However, if you do invest time in getting to know 'The Saddle Deluxe Sex Machine' – well, I am sure it will give you the clit wiggles.
While on the subject, did you know that 'Mechanophilia' is a sexual desirability to and sexual arousal by machines.
8. Weird Sex Toys in the form of the UberKinky Squirt Extreme Dildo 8 Inches
https://www.uberkinky.com/uberkinky-squirt-extreme-dildo-8-inches-85673.html
A squirting dildo⁉️ Hmm … Butter my butt, 🍑 call me a biscuit. 🍪 Sounds weird, right?
Do you have a cum fetish? 💦 Well get a load of this, cumsters! 💦 This is a gender-neutral cummalicious dildo 🍆💦 this will be a great dildo for those who enjoy internal cumshots 💦 alternatively, it could be used for piss play / watersports.
Did you know that there are a lot of straight men out there who enjoy strapon face fucking and get a sexual thrill from eating their own cum. 😋💦
I guess this is a worthy substitute for Autofellatio.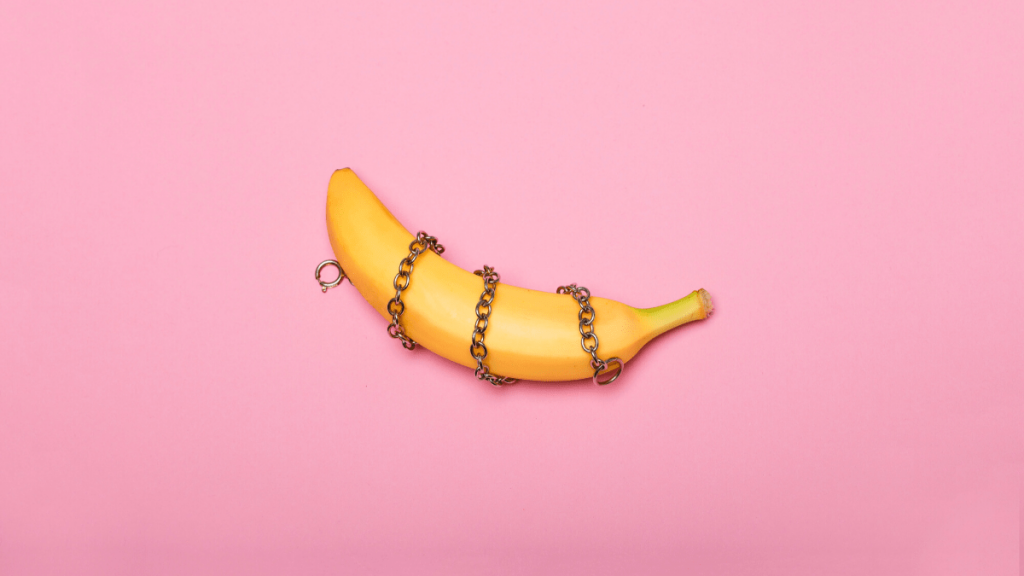 On a related note, If you would like to learn more about watersports, cum eating, face fucking, strapon pegging, anal play, pet play, then you must read the latest of Roger and Goddess Margaret's kinky husband and wife stories?
Check out the the Submissive Husband Stories series here! 👇
There we have it, kinky fuckers. I hope you enjoyed reading 'weird sex toys'.
Feel free to hit me up on Twitter and Instagram @Podopheleus.
Much Kink Love
Podopheleus